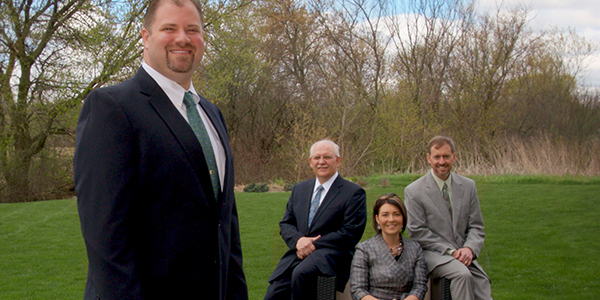 Personal Finance and Wealth Management Firm Continues Expansion
Kenosha, Wisc. – The Schaeffer Group, LLC announced today that Bill Waddle has joined the firm and is now accepting new clients to support the firms growing efforts in personal finance and wealth management.
Bill Waddle joined The Schaeffer Group, LLC as a licensed financial representative in January of 2015. He is securities licensed in multiple states including Wisconsin and Illinois, and is also licensed for life, health, variable life insurance, and variable annuities.
"We are pleased that Bill has joined our firm," said Greg Schaeffer, President of The Schaeffer Group, LLC. "As a family man, he understands how circumstances in life require solid financial foundation and will add value to the services our firm provides."
His professional affiliations include: National Association of Insurance and Financial Advisors, and Financial Services Institute. Bill became a client nearly 20 years ago and has studied the business for many years. He maintains his membership in IBEW Local 127 as a Journeyman Electrician. Bill is involved with Toastmasters International and Meals on Wheels.
Born and raised in Kenosha, Bill and his wife Melissa have five children. They had quadruplets, Luca, Kenzie, Tate, and Taylor, in 2013, and a fifth child, named Phillip, born in 2014. Spending time with his wife and kids is Bill's main priority outside of work. He enjoys golfing and attending sporting events.
About The Schaeffer Group, LLC
The Schaeffer Group, with a combined 65 years of experience, is a team dedicated to helping individuals in financial and wealth management. With values rooted in family, this team places emphasis in the organizational process with the goal of helping clients build a more prosperous financial future.
Services include stretching income, planning for the future, planning for the unexpected (such as divorce, death or loss of job), retiring, saving for college, securing future for loved ones. The Schaeffer Group includes Greg Schaeffer, President of the firm with 40 plus years in the financial management industry; Kristi Schaeffer, Vice President and Certified Senior Advisor since 1999; Edward Burnett, financial advisor since 2009; and now, Bill Waddle, licensed financial representative. For more information on The Schaeffer Group, visit theschaeffergroupllc.com.