Stretching Your Income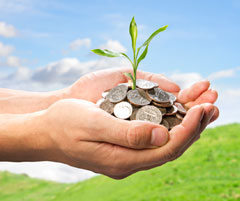 Perhaps you're at a loss for how to make the most of your money in your household? We can identify creative options for you to consider that will stretch your income so you're not carrying weight of the world. We can help you through a rigorous exercise of organizing your existing assets.
Call and schedule an interview with one of our knowledgeable team members today!
As a financial professional, I believe that an important element of my job is to help my clients think, and one of the best ways to help someone think is by asking questions. So oftentimes during client interviews I'll ask that question, "What do you think is the single largest expense that you or I…
As we approach another winter in the upper Midwest, we are probably spending some time and consideration on how we can plan if we have another bitterly cold season; checking coats and boots, mittens and scarves for the kids, and of course having plenty of hot chocolate on hand! And if we do have another…
Think for a moment about the routine shopping trips you take to the store to purchase frequently needed items.  Perhaps you are loyal to your store and name brand and don't even think about where to shop or which item to buy no matter the cost. What if we took a few moments to make…